Clara Dominguez, Managing Editor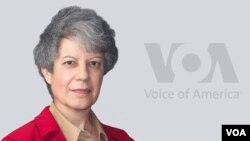 As Managing Editor of the News Center, VOA's main news-gathering operation, Clara Dominguez oversees a staff of writers, editors and producers who have a central role in providing news to VOA's weekly audience of nearly 237 million people in more than 45 languages.
Dominguez moved to the News Center from her position as direct of VOA's Latin America Division. Under her leadership, the division created a network of more than 350 television, radio, and on-line affiliates, reaching record audiences throughout South and Central America and the Caribbean.
Prior to joining VOA in 2010, Ms. Dominguez, a native of Havana, served five years as News Director at the Office of Cuba Broadcasting, where she was responsible for radio and television news coverage of events in Latin America and the United States, including presidential elections in both the United States and Latin America.