VOA's Heather Maxwell Selected for RTDNF-RIAS Berlin Commission Fellowship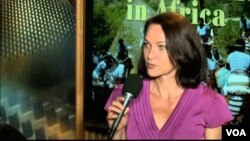 Congratulations to VOA's Heather Maxwell, who has been selected for a fall 2017 RTDNF-RIAS Berlin Commission Fellowship. RTDNF (Radio Television Digital News Foundation) is an educational foundation promoting ethical journalism and leadership in the newsroom in the electronic news community. RIAS Berlin Kommission is a bi-national organization promoting understanding between the U.S. and Germany in the field of broadcasting.
Maxwell has been the producer and host of Music Time in Africa, VOA's award-winning radio & TV program, since 2012. She has been a Fulbright scholar twice and has published several academic papers on African music. Maxwell will be one of 14 producers, reporters, and editors from across the United States to head to Europe, one of the largest groups of American broadcast fellows in the program's 24-year history. She will attend briefings with top-level German political and media players and meet with international journalists and officials at EU and NATO headquarters.